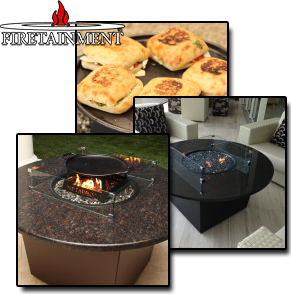 WHAT IS FIRETAINMENT?
Entertain friends, enjoy an evening with family, or prepare a relaxing, romantic evening with someone special.

Whether youre cooking quesadillas on the cast iron griddle in 5 minutes for the kids, searing tuna on the salt block for the food savvy adult, serving cheese fondue for a party, or simply enjoying roasting marshmallows or smores.

Fire reduces stress, creates ambiance, and is a must have on any patio or back yard. Its not just entertaining, its FIRETAINING! Take a tour of our standard fire tables, galleries, and options to create your very own unique FIRETAINMENT fire table!
---
Go Back